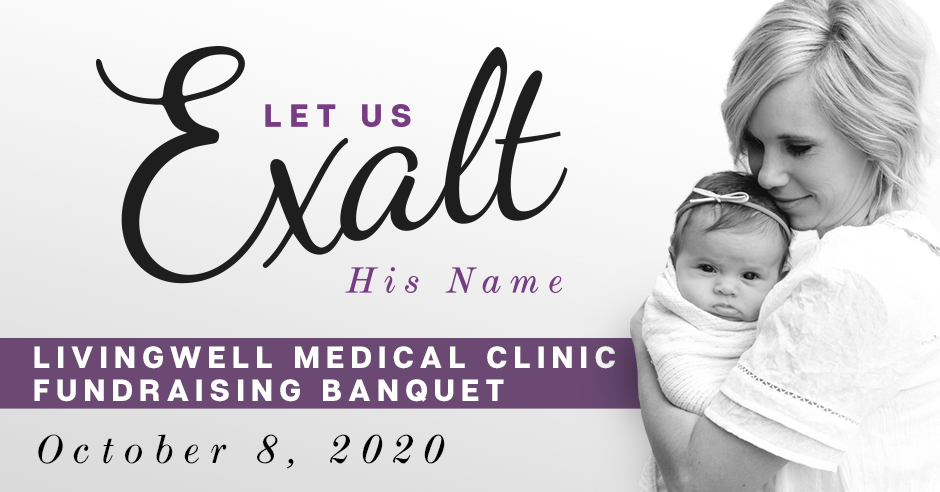 "OH, MAGNIFY THE LORD WITH ME, AND LET US EXALT HIS NAME TOGETHER." PSALM 34:3
On Thursday, October 8, 2020 at 7:30 pm, we will be hosting our annual fundraising banquet VIRTUALLY.
This year's fundraising banquet theme is "Let Us Exalt His Name!"  As a ministry, we want to exalt and glorify God in all we do. We believe He is a God of increase even in the most difficult of times.
The virtual event will be Livestreamed on YouTube on October 8 at 7:30 pm allowing everyone to attend.  Invite your close friends and family to join you.
Host homes with a party of 8 or more will receive a beautiful centerpiece and a host basket filled with 1 bottle of wine and 1 bottle of sparkling cider, 2 commemorative wine glasses, appetizers, and programs to host your own in-home event! *
*Host Baskets can be picked up at LivingWell Medical Clinic on October 7 or we will contact you to make delivery arrangements.
We are pleased to have Mike Slater as our keynote speaker for the evening.  Slater is a 35-year-old graduate of Yale University. He is the host of "The Mike Slater Show" each weekday on KGO-AM in San Diego, and his TV show "True Story with Mike Slater" on "TheFirst TV Network."  Mike is a frequent guest on Fox News and Fox Business and has guest-hosted for Glenn Beck's TV and Radio Show and the Dr. Drew Show on CNN Headline News.  Slater was named Top 5 "Young Guns" of Talk Radio by TALKERS Magazine. Slater conducted a 90-minute interview with Donald Trump in his Trump Tower boardroom.
Slater speaks to the Conservative heart by focusing on the 5 values that most inspire a virtuous life: curiosity, gratitude, hope, zest and love. He tells stories that connect to eternal principles and conservative values.
It will be an evening filled with stories of some of the men and women who were faced with difficult circumstances and came to us for help.  You will be given an opportunity to make a difference in the lives of men, women, and children as you get involved in the work of LivingWell and provide our clients with hope for their lives.
Don't miss "Let Us Exalt His Name" fundraising banquet on October 8. It promises to be a special evening.  All attendees, must register to receive the Livestream link.  For more information, call us at 530.272.6800 or click to RSVP.
Thank you for supporting LivingWell Medical Clinic as we join together to bring hope in the unexpected.
LivingWell Medical Clinic is a non-profit organization that relies on the generous support of our donors to be able to provide all of our services at no charge to those who need our help. We can't do it alone. It's your belief in what we do and your financial partnership that make it all possible. Thank you!