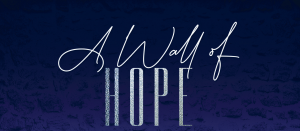 At LivingWell Medical Clinic, we believe that we have been called to inspire hope in our community.  It's an opportunity to serve those who are facing the reality of an unexpected pregnancy or the difficulty of past sexual health decisions and provide them with hope.
On Thursday, September 12, 2019 at 6:30 pm at Twin Cities Church, Grass Valley, we will be hosting our annual fundraising banquet.  This year's banquet theme is "A Wall of Hope." As you partner with LivingWell, you are helping bring hope to those who come to LivingWell for services.
We are pleased to have Kirk Walden as our keynote speaker for the evening.  Kirk, author of The Wall, is a former pregnancy help center director and an Advancement Specialist for Heartbeat International, the world's largest supporting organization for the pregnancy help community.
A night with Kirk Walden is an evening filled with humor, challenge, vision and hope. Kirk's journey into pregnancy help ministry – where he has served for more than 25 years – leads through life as a sports writer, professional golfer, and even nine years as a single dad. When you hear Kirk, leave the challenges of the day behind and get ready to laugh with a speaker with whom everyone can identify.
In addition to a great meal with fellow supporters, you will hear the stories of some of the men and women who were faced with difficult circumstances and came to us for help.  You will be given an opportunity to make a difference in the lives of men, women, and children as you get involved in the work of LivingWell and provide our clients with hope for their lives.
Don't miss "A Wall of Hope" banquet on September 12. It promises to be a special evening.  The banquet event is reserved seating only and reservations must be made by August 29. For more information, call us at 530.272.6800.
For those with little ones, we will be providing complimentary onsite childcare for our guests with children up to 12 yrs. Advance registration required and dinner is provided.
Thank you for supporting LivingWell Medical Clinic as we join together to bring hope in the unexpected.
LivingWell Medical Clinic is a non-profit organization that relies on the generous support of our donors to be able to provide all of our services at no charge to those who need our help. We can't do it alone. It's your belief in what we do and your financial partnership that make it all possible. Thank you!