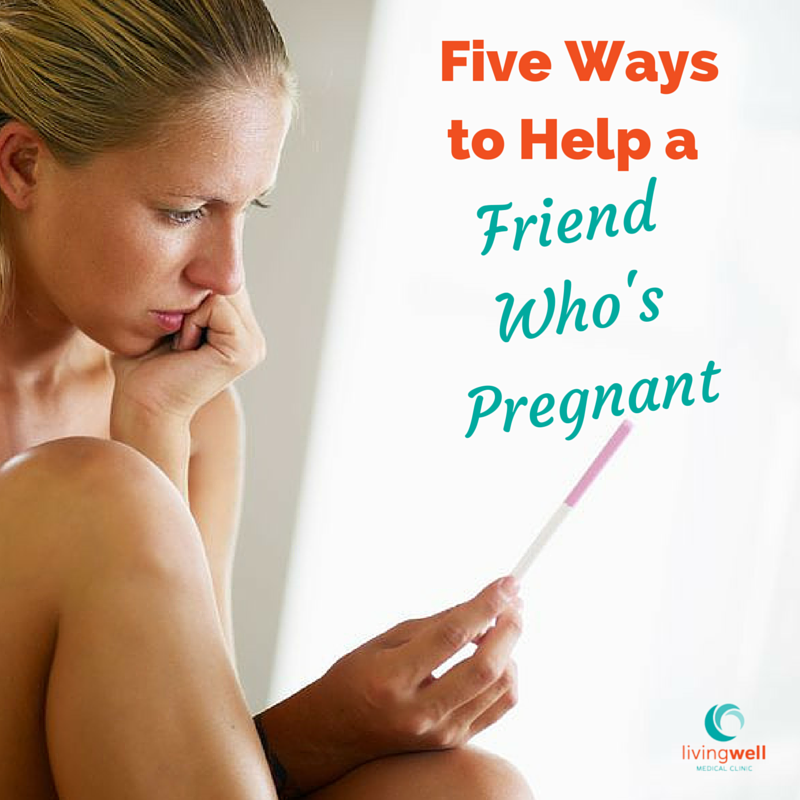 You got the notification and looked at your phone. It was a Snapchat from your friend with a picture of a positive pregnancy test. What? You call her back immediately and sure enough she just found out she is pregnant. She wasn't planning on this and she's pretty freaked out. You aren't sure exactly what to say, but the words just come out, "What are you going to do?" "I don't know," she answers through tears. All you want to do is to be there to give her a hug and let her know you are there for her.
Many young women find themselves in a scenario similar to this, a friend just shared they are unexpectedly pregnant and they aren't sure exactly what to say or how to help. Well, a hug is a great place to start. Over the next several days, weeks, and months she is going to need your love, care and support. We want to share 5 simple ways you can let her know you are going to be there, no matter what.
5 Ways to Help a Friend Who's Pregnant
Listen to Her
Usually what she needs most is someone to listen, someone who will let her process her feelings. Those feelings may change from one minute to the next. Sometimes she may seem scared and upset. Listen, and let her know that though this is a big deal, she can handle it. Sometimes, she may be happy. Be happy with her. Let her share all of her feelings. Listen and don't be afraid of saying the wrong thing. Let her know you're her friend and you're there for her.
Encourage and Support Her
As the news sinks in, as she processes information and emotions, and as she weighs decisions, she is going to need someone who will encourage and support her though the ups and downs. This is one of the biggest decisions she will face in her life, and she may feel like she is in this alone. She probably doesn't need someone giving unsolicited advice and telling her what is best for her, but she may need someone she can verbally process all of her options and emotions with.
Be Positive
When you talk with her, remember it's important to be positive. As she considers all of her options; abortion, parenting and adoption, she doesn't need negativity around her. Even if you have negative thoughts, don't say things like, "I just can't see you having a baby right now," "I could never give a baby up for adoption," or "I don't see how anyone could consider an abortion." Saying what you're thinking may make you feel better, but it probably won't help her. Additionally, she probably doesn't need to hear the story of your aunt's 100-hour labor and she doesn't need you to bring up a bunch of "what ifs." She's already thought of enough of these on her own.  If she asks your opinion, be honest, but share your thoughts in a positive way.
Get Her Help
During this process your friend is going to need some real, practical help. It may be a ride to the doctor's office, someone to be with her when she tells her parents, help cleaning her apartment, or just a trip to a coffee shop or shopping to get her mind off things. If the father isn't supportive, she will need you even more. Check in to see what she needs, but not too often.
There will also be questions that come up, especially as she considers her options, that you may not know the answers to. That's okay. If she needs someone to talk with, tell her about LivingWell Medical Clinic. Our team is here to listen, to provide information about all of her options, and we even offer pregnancy tests and limited OB ultrasounds at no charge. You can even come with her to the appointment if that makes her feel more comfortable.
Respect Her Decision
You may have your opinion on what option she should choose when it comes to her pregnancy. And you may disagree with the option she chooses. But once she has made her decision, you need to respect it, or at least respect her. Try to understand her point of view and realize that your feelings may get in the way.
Maybe you've been in a similar situation. While this can help you relate to what she is going through, it doesn't give you the right to make her decision. This is her story, with different circumstances, different people and different possibilities. Use your story to empathize with her but realize she has to make her own choices. If you don't, you run the risk of damaging your friendship at a time when she needs it the most.
If you or your friend need someone to talk with, have additional questions, or want to schedule an appointment please call our office at 530.272.6800 or text us at 530.802.0858
Eva Fisher
Nursing Director
The content on this page has been reviewed and approved by our Nursing Director.