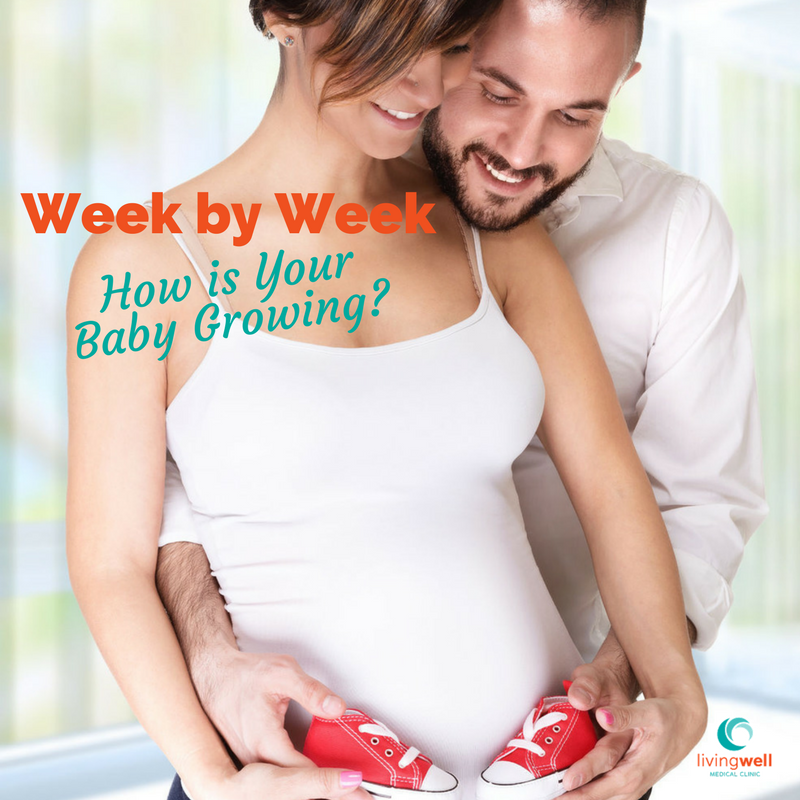 You just found out you are pregnant. You might be wondering about the changes inside your body. How is your baby growing and developing?
A normal pregnancy is 40 weeks.  The beginning point is the first day of your last menstrual period (LMP). An LMP is measurable. Most women do not know when they ovulated, which is your conception date. Your actual conception date or fertilization (when the egg and sperm get together) date is usually two weeks later.
The pregnancy (40) weeks is divided into three trimesters. Each trimester consists of 12-13 weeks.
1st trimester – Weeks 0-13
2nd trimester – Weeks 14-27
3rd trimester – Weeks 28-40
Here is a breakdown of each trimester:
1st trimester – Weeks 1-4: 
Fertilization and implantation occur. The gestational sac forms and fills with fluid. At day 10, this tiny little ball is considered an embryo. Around day 16, the heart and great vessels begin to form pumping blood throughout the embryo. The neural tube which will become the brain and spinal cord begins to form. Eyes and ears are forming. Limb buds, which form the arms and legs appear. By the end of week 3, the embryo is ¼ inch long.
1st trimester – Weeks 5-13:
The body systems, such as nervous, digestive and urinary systems develop. The shape of the embryo is recognizable as a human being; facial features become more distinct. The heart beat can now be heard with an instrument called a Doppler. Bones are developing. The embryo moves continuously but cannot be felt by the mother. By week 9-12, the arms and legs have matured, there is increasing movement, eyelids form, as well as fingernails and toenails. At the end of the eleventh week, the baby's genital organs will start developing. By week 12, your baby may measure 2 ½ inches long!
2nd trimester – Weeks 14-18:
This trimester is a growing trimester.  All major organ systems are formed and just need to get bigger. Urine forms and tissue is becoming bone within the arms, legs and around the head. In week 14, the baby's sex becomes apparent. Sucking motions are noticeable and your baby shows coordinated movements. Fat forms at this point, ears begin to hear and your baby's length approaches 5 ½ inches.
2nd trimester – Weeks 19-27: 
Week 20 is the halfway point! Baby is swallowing, hair is visible and fingerprints and footprints form. By the end of this second trimester, baby knows your voice and may respond to familiar sounds with movement. Lungs are producing a substance called, surfactant, which enables the lungs to inflate and deflate. By now your baby is approximately 9 inches long and may weigh nearly two pounds. As the second trimester ends, all systems are continuing to mature and grow. By week 23 -24, babies who are born at this time, are capable, with intense medical care, to live outside the womb.
3rd Trimester – Weeks 28-35:
By week 29, baby's bones are completely developed. However, they are not hard, but soft and malleable.  Baby's eyes begin to open and hair on the baby's head is clearly formed. Your baby is now consistently breathing through its own lungs.  The fine hair covering the baby's body begins to fall off and the pasty white substance covering the body gets thicker. Weight gain occurs at this point, as much as a ½ pound every week until delivery.
3rd Trimester – Weeks 36-40:
During these latest weeks, your uterus is filled with baby. Baby's punches and kicks can be felt very readily. By week 37, baby begins to turn and position its head down, to prepare for labor and delivery. The placenta is still the main supplier of nutrients and antibodies. Your baby now measures 18-20 inches and may weigh more than 61/2 pounds.   Keep in mind, that babies come in different lengths and weights!
Due dates may arrive and depart without delivery. Don't be alarmed if your baby arrives two weeks early or two weeks late. This is not unusual. Your baby is now ready to meet you!
Links:  http://www.mayoclinic.org/healthy-lifestyle/pregnancy-week-by-week/in-depth/fetal-development/art-20045997?pg=2
http://www.hopkinsmedicine.org/healthlibrary/conditions/adult/pregnancy_and_childbirth/the_second_trimester_85,p01234/
Eva Fisher
Nursing Director
The content on this page has been reviewed and approved by our Nursing Director.