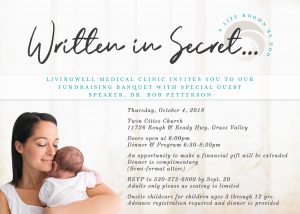 At LivingWell we believe that we have been called to inspire hope in our community.  It's an opportunity to serve those who are facing the reality of an unexpected pregnancy or the difficulty of past sexual health decisions and provide them with hope.
On Thursday, October 4, 2018, we will be hosting our annual fundraising banquet.  This year's banquet theme is "Written In Secret – A Life Known By God."  As you partner with LivingWell, you are helping bring hope to those who come to LivingWell for services.
We are pleased to have Dr. Bob Petterson as our keynote speaker for the evening.  Dr. Bob is the former pastor of Covenant Presbyterian Church of Naples. He is sought after as a speaker both nationally and internationally, having spoken to audiences in 70 countries. Dr. Bob is the author of Desert Crossings, Theater of Angels, Pilgrims Chronicles, I'll Be Home for Christmas and the recently released Book of Amazing Stories from Tyndale Publishing.  He has worked with America's top media leaders in Hollywood and New York as the East Coast President of Mastermedia International.
Dr. Bob is a spellbinding storytelling, weaving intriguing, life-changing and inspirational stories into his books and speaking engagements.  His own story of redemption authenticates his words as he himself was almost aborted. Coming through the foster care system gives him a unique perspective to the plight of children and broken families. He is passionate about encouraging and supporting women who feel they must terminate their pregnancy because they have no support or options.
In addition to a great meal with fellow supporters, you will hear the stories of some of the men and women who were faced with difficult circumstances and came to us for help.  You will be given an opportunity to make a difference in the lives of men, women, and children as you get involved in the work of LivingWell and provide our clients with hope for their lives.
Don't miss "Written In Secret…A Life Known By God" banquet on October 4.  It promises to be a special evening.  The banquet event is reserved seating only and reservations must be made by September 20.  For more information, call us at 530.272.6800.
For those with little ones, we will be providing complimentary onsite childcare for our guests with children ages 3 through 12 yrs. Advance registration required and dinner is provided.
Click to RSVP by September 20.
Thank you for supporting LivingWell Medical Clinic as we join together to bring hope in the unexpected.
LivingWell Medical Clinic is a non-profit organization that relies on the generous support of our donors to be able to provide all of our services at no charge to those who need our help. We can't do it alone. It's your belief in what we do and your financial partnership that make it all possible. Thank you!